Sinopsis
Paterson is a bus driver and part time aficionado poet. Each day he keeps a simple routine: he drives his bus, walks his dog, goes to a bar and drinks a beer. His only daily engagement is with writing poems, while living a beautiful love story with his partner. The most recent movie by Jim Jarmusch is developed in the course of a week and pays homage to the poet William Carlos Williams. It is about a celebration of the quiet triumphs and loses of the daily life, that finds poetry in the little things.
Director / Jim Jarmusch Screenplay / Jim Jarmusch Cinematography / Frederick Elmes Editing / Affonso Gançalves Custome Design / Catherine George Art director / Kim Jennings Sound / Robert Hein Original Score / Jim Jarmusch, Carter Logan, SQÜRL Producers / Joshua Astrachan, Carter Logan Executive producers / Daniel Baur, Ron Bozman, Jean Labadie, Oliver Simon Production Companies / K5 International, Amazon Studios, Inkjet Productions
Alemania, Estados Unidos, Francia. 2016
Ficción, 118 min.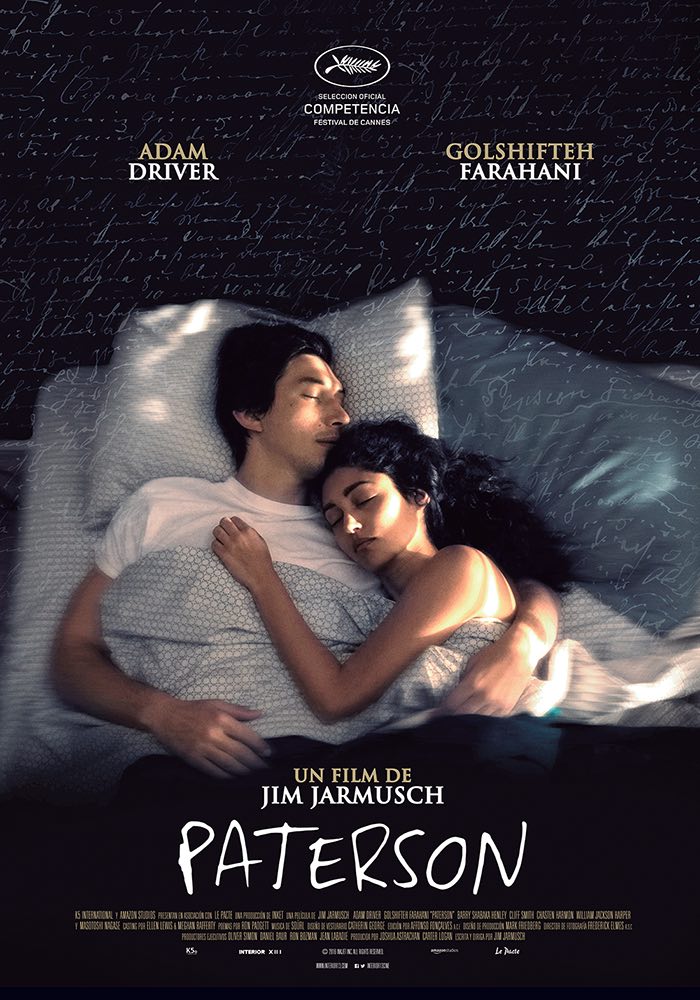 Descargar Cartel
Jim Jarmusch
Akron, 1953. Director, screenwriter, actor, producer, film editor and composer. He has been an importan exponent for the indie film scene since the eighties. Initially, he studied english literature history at Columbia, in New York. Later on he would be a student at NYU film school, where he was Nicholas Ray's asistan. In 1982 he directed the short film The New World, that in 1984 would later be his feature film Extraños en el paraíso, that awarded him the Camera d'Or at Cannes. Jarmusch work is captivating mainly for his acute and emotional portrayal of the underdog living at the margins of society.
Notas
«Jarmusch habla no con ideas sino a través de los objetos» para asegurarle al estómago algo que importa en su universo icónico: el gusto viene de saborearse, de saber y sabor, de probar con los sentidos a las cosas y luego, en este caso, llevarlas al plano cinematográfico, a la degustación, como lo ha hecho en tantos años de gestos y sabores, café y cigarrillos, para que sus personajes logren mantenerse con vida a través de la rutina.»
– Carlos Rgó: Revista Incónica
«El vivir nuestro de cada día, el milagro de lo cotidiano y el arte poético se conjugan en un filme simple pero hermoso».
– William Venegas: Nación
«Paterson, su película más lograda en mucho tiempo y uno de sus proyectos más celosamente personales, está financiada por los Amazon Studios de Jeff Bezos, recién coronado como la persona más rica en el planeta; una paradoja más que echa leña a la encendida polémica entre el cine de estudios tradicionales y el cine impulsado por compañías online».
– Sergio Huidobro: CinePremiere
«En una de sus mejores películas de tiempos recientes, Jim Jarmusch plantea un juego de cajas chinas entre el personaje de la cinta, la ciudad donde transcurre y el homenaje al poeta WIlliam Carlos Williams. Es una historia simple que no se aleja del estilo del director, un cine de lo esencial compuesto de gestos mínimos, diálogos breves e imágenes contundentes, con un tono característico de humor seco».
– Fernanda Solórzano: Letras Libres
Ver catálogo